THREE: Maynard & Friends
"Hollywood – Maynard Ferguson, ex-star of the ex-Charlie Barnet band, stood up at his end of the new Stan Kenton brass section and broke loose with some of the wildest, most unbelievable, most exciting (and, to some, most perplexing) trumpet playing ever heard anywhere. A young fellow sitting near this reporter grabbed the person sitting next to him (a complete stranger) and gasped: "The TOTAL end! The TOTAL end!"
DOWN BEAT MAGAZINE – March 10th, 1950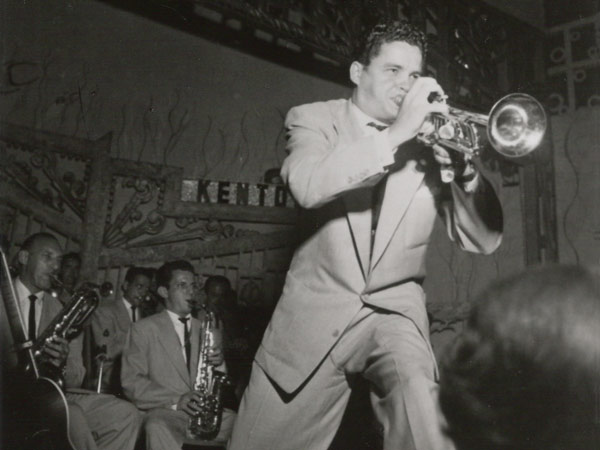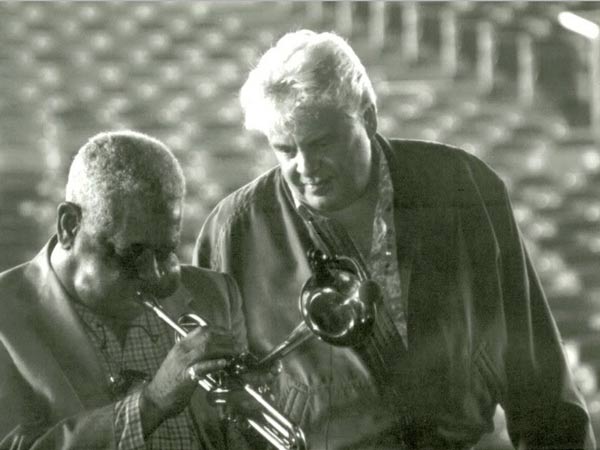 Maynard & Dizzy
Dizzy and Maynard during rehearsal at Pine Knob Amphitheatre in Detroit, summer 1991. The concert featured Maynard, Dizzy Gillespie, Al Hirt and Billy Eckstine. Photo by Fred Timmons.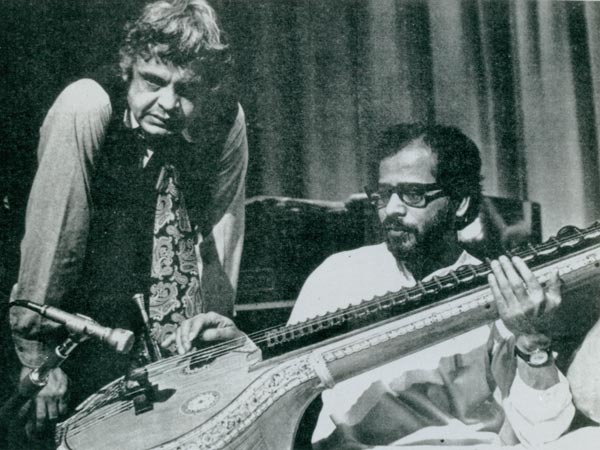 Maynard & Mukunda
Maynard Ferguson and close friend Vemu Mukunda rehearsing for a concert in India.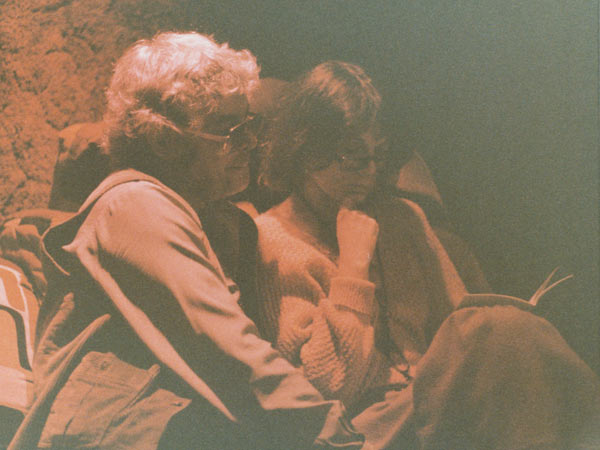 Maynard & Flo
In the recording studio, Maynard and Flo Ferguson passing the time reading.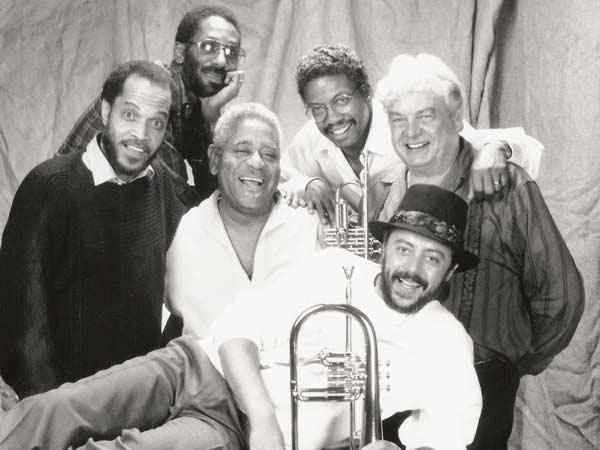 Maynard & Friends
Maynard Ferguson in good company. Chuck Mangione, drummer Billy Higgins, bassist Ron Carter, Dizzy Gillespie, Herbie Hancock and Maynard. ~ Ferguson archives photo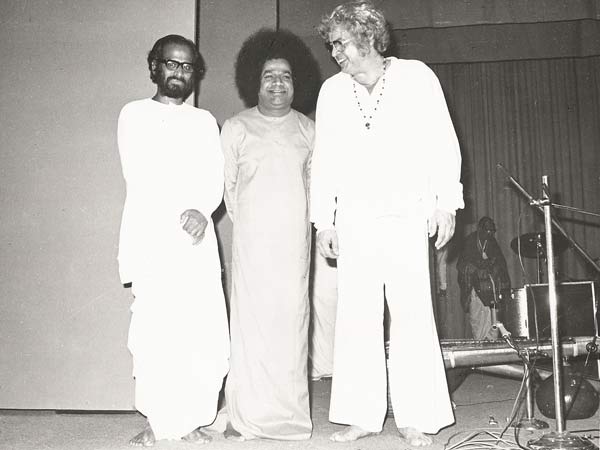 Maynard & Sai Baba
Maynard Ferguson's life and music were greatly influenced by the teachings of Sathya Sai Baba. Maynard had lived in India for a short time and returned for two months each year to teach music to the Indian students at Baba's ashram. Influenced by the music of India with all its expanded time signatures and unique instruments as well as a new spiritual path of oneness.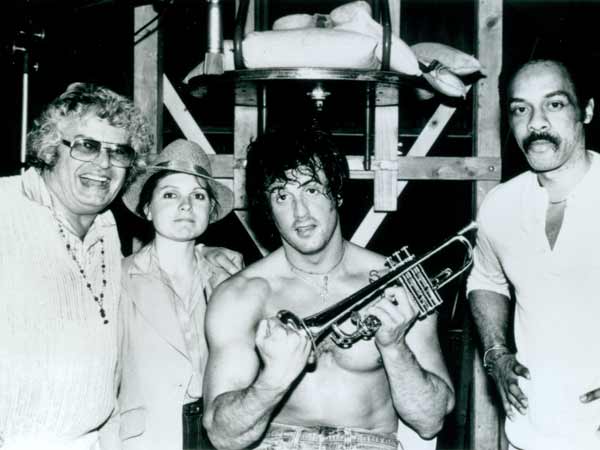 Maynard & "Sly"
Maynard Ferguson, Kim Ferguson (daughter and manager), Sylvester Stallone, George Butler (Producer, Columbia Records) in studio preparing to record the theme music for "Rocky II." Stallone "played" the punching bag. Punching bag stand is behind him.  ~ Ferguson archives photo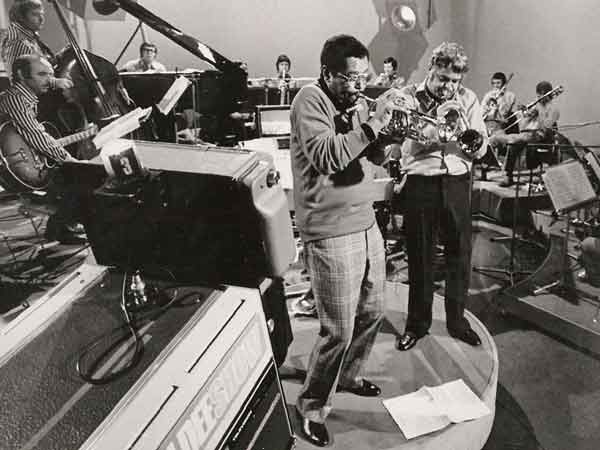 Maynard & Billy Eckstine
While living in England, Maynard Ferguson had a regular spot on The Simon Dee Show.  Here in the early 1970s he performs with Billy Eckstine.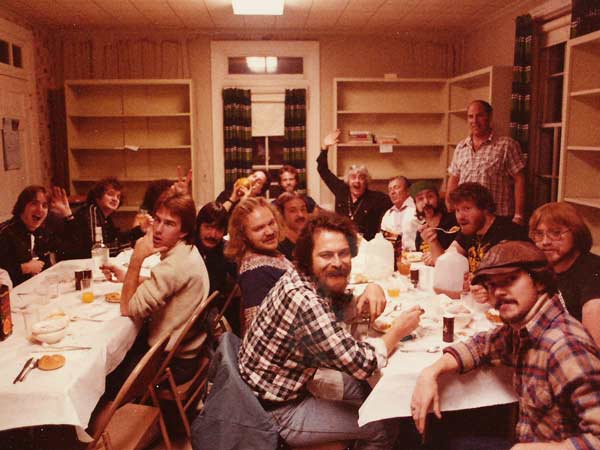 Maynard & "Bandboys"
Maynard Ferguson was a friend and mentor to every musician that came through his band. His one rule that egos had no place on the road allowed everyone to have fun and enjoy the experience. He lovingly referred to them as his "bandboys."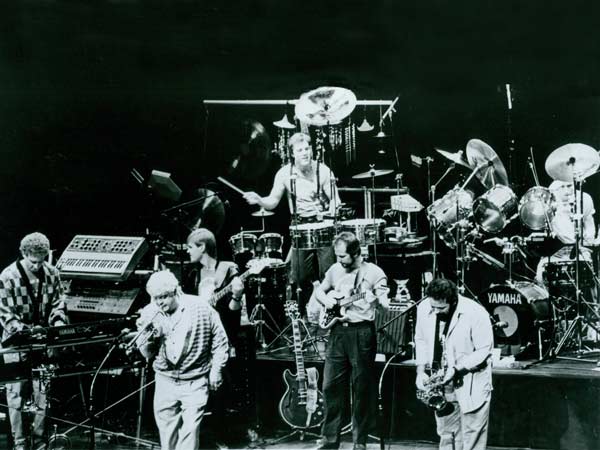 Maynard & High Voltage
Maynard Ferguson with his 1980's jazz-fusion band High Voltage. Todd Carlin, Bob Wakerman, Steve Fisher, Michael Higgins, Bernie Dresel and Denis DiBlasio.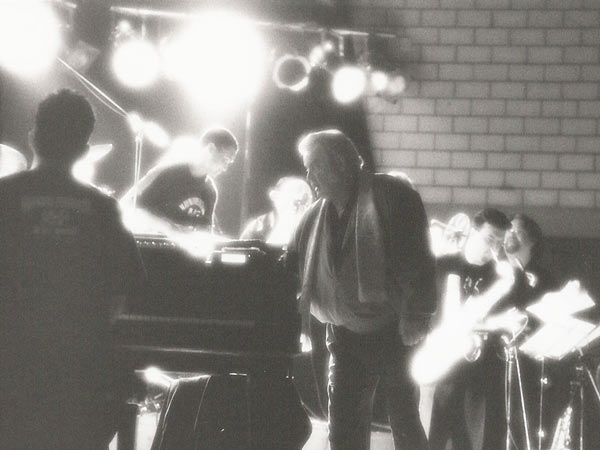 Maynard & Big Bop Nouveau
Maynard Ferguson formed his next band, Big Bop Nouveau, in 1988. High Voltage was fun and gave him more opportunity to solo, but he was eager to work with more horns again. It became one of the last touring big bands, touring 8 – 9 months a year for more than a decade.
Ben (Life long fan)
I will never forget opening, on Christmas morning 1990, the first compact disc I ever owned. It was purchased for me by my Grandmother of all people - who told me as I tore the wrapping paper away that I will never hear anything like this. It was ``Chameleon`` and she was right - my life would never be the same. I was 12
Drew (Software developer)
Who else would combine Indian music with American swing jazz, and make it sound great (Misra De Nuka) Watching Maynard Ferguson perform made me fall in love with the instrument and the music. His energy, talent, and style give a horn player, or anyone, something to aspire to. Even as he got older, he kept going and going. He was and still is the greatest in my book.
David (Resume Service)
I remember telling my mother after the concert that this guy led the band with his feet, hands and trumpet. It was fire, screaming, lyrical, jazzy, tasty and classy music to my ears and I was hooked forever.
The Legend Lives On
His music moved generations. Continue the movement.